We enjoyed our evening celebrating El Centro's Past, Present and Future! Thanks to all who joined us, and for any of you that weren't able to celebrate with us on November 19, 2016 we are recapping the event here.
The evening began with a cocktail reception where guests were able to mingle, bid in our silent auction, explore our history and enjoy music by Mariachi Aguila de Kansas City. Dinner, a program and an evening of dancing to the sounds of Atlantic Express followed.
The focus of the program recognized the following honorees:
Steadfast Supporter, William Hamilton
While working at a local insurance company, William Hamilton decided he wanted to support an organization whose impact he could move forward. After researching countless organizations, he found El Centro. That was 22 years ago. Now in retirement, he continues to be a monthly donor, along with giving his talents as a volunteer at our Academy for Children. This steadfast monetary support is much appreciated, but he has given a greater gift to the children and families at the Academy–his love for reading. He shows that love by reading to the children and donating countless books to enhance literacy in our preschool.
Faithful Ally, Archdiocese of Kansas City in Kansas
For the past 40 years, the Archdiocese of Kansas City in Kansas has abidingly walked beside El Centro in our endeavors. By funding our agency since Day One, they have been a faithful partner. The dynamics of our partnership has changed over time, yet the overarching spirit of respect and esteem for the population we serve through a shared mission—to serve our most vulnerable—will last for years to come.
Founding "Father", Fr. Ramon Gaitan
Fr. Ramon Gaitan came to Kansas City in the 1960s from San Antonio, Texas. While assigned in Topeka, he saw a need for services specifically for the Mexican population there. To be able to work with those community members, he asked then-Archbishop Ignatius Strecker to assist in supporting the Mexican community. El Centro of Topeka was established in 1972 but within four years, our founding "Father" assisted in the birth of our now-40 year old agency in Kansas City, Kansas.
Visionary Leader, Richard Ruiz
El Centro's President Emeritus, Richard A. Ruiz, served as President and CEO for El Centro from 1976-2006. During that time of evolution and change, the growth of the organization was through his vision, dedication and servant leadership that built a strong foundation for our first 40 years. Through his thoughtful and effective leadership as a champion for Latinos and the community, and his forethought of a strong financial base, he established an endowment—something unprecedented for most nonprofits, building a robust structure for El Centro's next 40 years.
At El Centro's 40th Celebration on November 19th, Our Board of Director's has found a way to make sure we connect our past to our present and beyond by renaming  our 650 Minnesota building the Richard A. Ruiz Administrative Building. For his many years of service, to the incorporation of our endowment, to helping the overall revitalization of the KCK downtown, we thank Mr. Ruiz for creating a foundation for a solid future!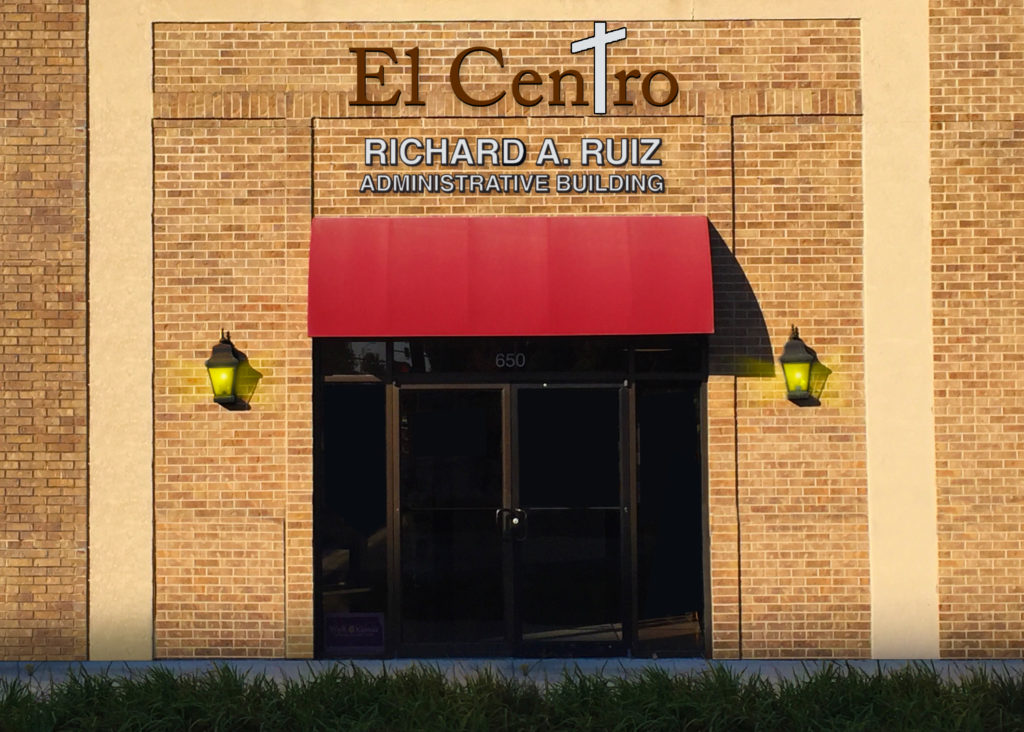 We'd also like to acknowledge those who helped put our event together:
40th Committee Volunteers
Archbishop Joseph F. Naumann
Atlantic Express
David Tinoco
Dr. Gene Chavez
Ed's Trophies
El Centro Board of Directors
El Centro Staff
John (J.D.) Rios
Kris Ketz
Mariachi Aguila de Kansas City
Mayor Mark Holland
Mayor Michael Copeland
Olathe Conference Center
Puente Marketing
Rob Rhodes
Sandra Olivas
Video Participants
Lastly, our sponsors gave us the opportunity to honor our past, celebrate our present and look forward to our future. Sponsors for the evening include:
Presenting Sponsor:
Kansas State University
Diamond Sponsor:
Kansas City Kansas Community College
Emerald Sponsors:
Ewing Marion Kauffman Foundation
University of Missouri-Kansas City
The Archdiocese of Kansas City in Kansas
Ruby Sponsors:
Blue Cross Blue Shield of Kansas City
Providence Medical Center
UMB Bank
Kansas Gas Service
IUPAT District Council #3
Table Sponsors:
Ace Personnel
AIRR-Advocates for Immigration
Rights and Reconciliation
AT&T
Bank of Labor
BKD, LLC
Bukaty Companies
Capital Federal Foundation
Chayan & Aditi Dasgupta
Cielo Fernandez Ortega
County Club Bank
Donnelly College
ECCO Select
Ellen Hanson
Garcia Immigration Law Firm,
LLC
Hallmark Cards
John (J.D.) Rios
Johnson County
Community College
Johnson County Sheriff 's Office
Kansas City Kansas
Fire Department
Kansas City Kansas
Police Department
Kansas State University Olathe
Law Office of Micki Buschart
Olathe Latino Coalition
Phalen Law Office
Puente Marketing
Ramon Murguia
Richard A. Ruiz
St Paul Catholic Church
Swope Health Services
University of Kansas Hospital
Wyandotte County Sheriff 's Office