What are the DACA Clinics:
The monthly DACA (Deferred Action of Childhood Arrivals) Clinics are offered to assist Dreamers and their families maintain the Dacamentation status active without a lapse or fear for expiration. At this time we are only to assist with renewals as the USCIS is no accepting any new applications. The renewal process should begin six months before the current one expires. 
The purpose of these clinics is  to uplift the underrepresented voices in our communities by continuing to support our Dreamers in retaining their status. This will aid them and their families in the pathway through furthering their education and careers.
For more information about renewing your DACA, or to volunteer at the monthly clinics, please contact El Centro at 913-677-0100 and ask for a Community Organizer. If you would like to sign up for the monthly clinic please send your information to daca@elcentroinc.com.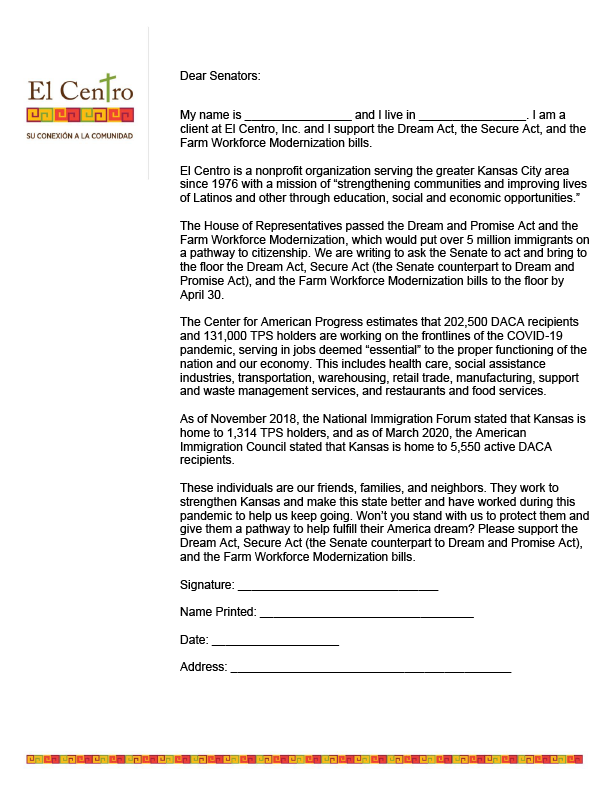 The Dream Act would give DACA recipients a pathway to citizenship.
El Centro, Inc. is supporting The Dream Act with a letter cmapaign asking community members to send letters to their senators from the state of Kansas. Saying they support the Dream Act. Click the button below and download your copy.