Economic Empowerment
Helping Latinos Experience Increased Knowledge and Wealth by Building Financial Assets and Effectively Managing Their Financial Resources
One of the best ways to strengthen families is through economic empowerment, including emergency financial assistance, financial literacy education, free tax assistance and help completing ITIN applications.
Money management and economic concerns are addressed through our monthly group financial literacy providing you budgeting knowledge, money handling skills, and the basics of surviving in the financial world. It is never too early to start planning! This program offers the following topics. 
Budgeting – identifying income, distinguishing between needs and wants, and developing a personal budget
Savings – basics and best ways of savings, how to become debt-free
Investing – basic investing knowledge, strategies, and resources, retirement accounts, etc.
Taxes – understanding taxes, how to read pay stubs, tax terms and tax forms, special tax credits and benefits, tax saving strategies
Classes are held at El Centro's Main Office, 650 Minnesota Ave., Kansas City, Kansas.
We also provide one-time Emergency Assistance for those in need. Up to $100 is allocated for utility bills, rent, or other emergencies. You must make an appointment for an in-person consultation with our Economic Empowerment Coordinator for this service. To receive this service, we require completion of a financial literacy class. If you have any questions or comments about a program, please contact El Centro at 913.677.0100.
All of these services are free of charge and we are always looking for volunteers to assist our clients with their financial issues. Please contact us for more information.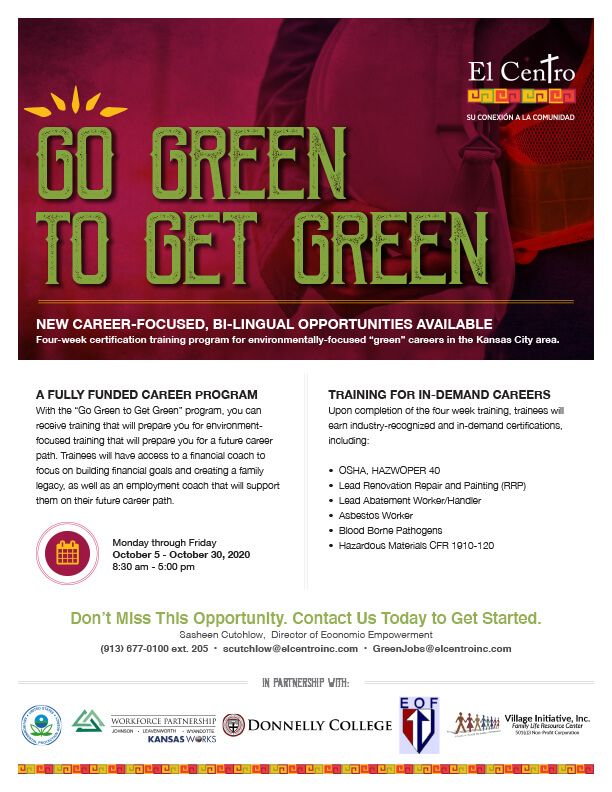 ECONOMIC EMPOWERMENT VIDEOS