Make a Donation
You can help! 90 cents of every dollar donated goes to run our school, programs and services.
Contribute Your Time
Volunteering with El Centro is a fulfilling way to give back. Learn how you can help!
Stay Connected
Receive email alerts for El Centro news, events and job postings.
Our Mission: To strengthen communities and improve lives of Latinos and others through educational, social, and economic opportunities.
Latest News from El Centro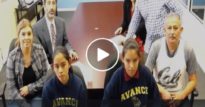 The Jamal family of Lawrence, KS, and the Avelica family of Los Angeles come together to share their stories of their fathers being detained by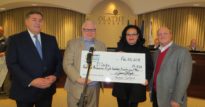 Checks totaling $151,202 were presented to Mayor's Christmas Tree Fund beneficiaries on February 20, bringing the total raised for the Fund since 2007 to $1,217,858.05.
Happy Holidays!
Posted Dec 21, 2017 By Fabian Gayosso-Gonzalez
Wishing you and your family Happy Holidays, and a blessed New Year filled with peace, laughter and kindness.
Upcoming Events
Time: 3:30-5:50
Location: No location set
Time: 3:30-5:50
Location: No location set
Time: CLOSED
Location: No location set