Make a Donation
You can help! 90 cents of every dollar donated goes to run our school, programs and services.
Contribute Your Time
Volunteering with El Centro is a fulfilling way to give back. Learn how you can help!
Sign Up for Our Email
Stay up-to-date on jobs, events, and news
Our Mission: To strengthen communities and improve lives of Latinos and others through educational, social, and economic opportunities.
Latest News from El Centro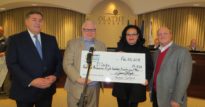 Checks totaling $151,202 were presented to Mayor's Christmas Tree Fund beneficiaries on February 20, bringing the total raised for the Fund since 2007 to $1,217,858.05.
Happy Holidays!
Posted Dec 21, 2017 By Fabian Gayosso-Gonzalez
Wishing you and your family Happy Holidays, and a blessed New Year filled with peace, laughter and kindness.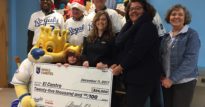 As part of the Royals Charities Giving Week, the Academy for Children was given $25,000.00! This donation will be used to replace old classroom furniture
Upcoming Events