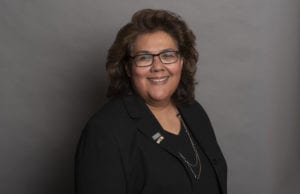 As a Latino mother, raising three young adults, leading a Latino serving organization, I am heartbroken as I reflect over the past two weeks. Processing my feelings not because of the continued injustice and unrest in our country, but for the continued disregard of human life taken by the hands of some who are sworn to protect and serve. It has taken me some time to process my feelings, internalizing the anger and working through the tears. El Centro's mission is to "strengthen communities and improve the lives of Latinos and others through educational social and economic opportunities." Through my personal self-reflection, one thing has always remained clear; El Centro stands with our black community and we believe Black Lives Matter!
While these injustices are not new, our injustices are intertwined. We seem to face these injustices every day because of this country's unwillingness to learn from our history, and to make progress, so instead has us repeating it. We continue to move backwards instead of progressing because of racism and discrimination that runs deep in our communities.
Throughout our history we have been appeased with the talk of reform in our police, criminal justice, health and education systems, etc. but until we deal with our issues of racism, implicit bias and income inequities we will not be able to truly see change. These conversations must start at home and in our communities.
Though we cannot say we have walked in your shoes, we understand the struggles of our black community; we feel your pain and commit to stand with you to make a change against:
• Race inequities
• Racist systems
• Racial disparities
• Persecution
• Dehumanization
• Injustice
• Hate
• Fear tactics
• Criminalization
• AND law enforcement brutality
We HEAR you and we are HERE for you!
We need allies to win against inequity. El Centro commits to using our platform to educate and make a change. We commit to fighting for changes in policies and practices that lead to racial inequities, dismantling white supremacy systems to create a new day and a new way! We will educate ourselves and work to educate others so that our future generations do not experience pain and injustice.
We are proud to be an ally with our black community and those who are hurting. We stand in admiration watching people stand up, speak up and be open minded to have vital conversations about race, getting to the root of the problem needed to make real change. No matter the color of your skin, the language you speak or the country you were born in, it's time to unite, speak up and demand change. Black Lives Matter!
In Solidarity,
Irene Caudillo
President & CEO
El Centro, Inc.