Academy for Children Teaching Staff
We are fortunate to have a teaching staff that is passionate about your child and their learning. Each of our teachers is encouraged to stay up-to-date with the latest research and best practices in Early Childhood Education. To that end, they attend conferences and seminars, have monthly professional development activities, along with hands-on practice to learn new strategies and skills to implement in the classroom. This training gives them new techniques and new information on what is important to the children and families who access our educational services.
The Academy for Children is accredited by the National Association for the Education of Young Children (NAEYC).
Academy for Children Director
Geralyn Sosinski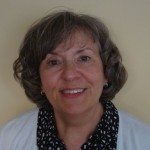 My name is Geralyn Sosinski and I am the Director of Early Education at Academy for Children. I am a life long resident of Kansas City, Kansas. I have a B.S in Elementary Education from the University of Kansas, an Infant -Toddler Certificate from the Erickson Institute, and a MA in Early Childhood Studies. I have over 20 years of experience working with children birth through 5th grade. I have been married to my high school sweetheart for 38 years. I have 4 children and 2 grandchildren. It is a great privilege and honor to work with the wonderful children, families and staff of the Academy.