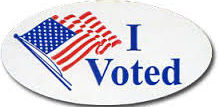 The Federal/State Primary Election is  Tuesday August 2, 2016.  Offices on the ballot include U.S. Senate, U.S. Congress, State Senate, State Representative, District Court Judge and Precinct Committeeman/Committeewoman.
El Centro strongly encourages you to make your voice heard and vote on Tuesday.  For those voters in Johnson County, please visit https://www.jocoelection.org/voters/AdvanceVoting.htm for information on advanced voting in-person, by mail and voting at the polls on Election Day.
For those voters in Wyandotte County, please see below.